Mike Gallagher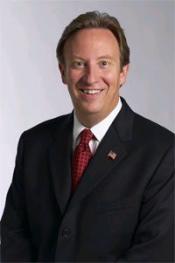 Mike Gallagher's road to being the 6th most listened-to radio talk show host in the country (Talkers Magazine) began in 1978 as a 17-year-old high school senior in Dayton, Ohio. Mike talked his way into an on-air shift at WAVI-AM in his Ohio hometown and has been talking on the radio and television ever since. Mike's broadcasting career has taken him from Dayton to WFBC-AM in Greenville, South Carolina (now WORD-AM) where his ratings and revenue success led to his eventual promotion to station manager. He was also host of the popular "Tiger Tailgate Show" on the Clemson Football Radio Network. From there, he became the afternoon drive-time leader in Albany, New York on upstate powerhouse WGY-AM.
From Albany, it was just a short drive south to the nation's number one market, New York City, where Mike enjoyed a two year stint as morning drive host on WABC-AM, the nation's most listened-to talk radio station. In 1998, The Mike Gallagher Show was launched nationally with 12 radio stations. Today, Talkers Magazine reports that he's the sixth most listened-to talk radio host in America with over 3.75 million weekly listeners in top ten markets like Los Angeles, Chicago, Dallas, Boston, Houston, and Philadelphia as well as cities all over the country, and is the 8th most recognized talk radio personality in America (The Benchmark Company). Mike has been featured in numerous magazines and newspapers including the New York Times, the Wall Street Journal, Time, and Forbes.
Besides his talk radio duties, Mike is equally comfortable in front of television cameras, too. He's a Fox News Channel Contributor making frequent appearances on all of the Fox News Channel programs as well as occasionally guest hosting one of the talk shows on the cable news giant. In addition to his busy broadcasting career, he's also a pundit for the popular news and opinion website, Newsmax.com. And he's added "author" to his resume as he recently wrote his first book, which became a New York Times Bestseller, "Surrounded by Idiots -- Fighting Liberal Lunacy in America", published by William Morrow, an imprint of Harper Collins.
In addition to being wildly popular with listeners, Mike is enormously respected by his peers in the radio industry. Recently, he was named to Talkers Magazine "Heavy Hundred List", the 100 most influential and compelling talk hosts in America. This is the 11th consecutive year that he has been featured on this prestigious list. Mike's syndicator, Salem Radio Network, is based in Irving, Texas (near Dallas) and his show's offices and studios are in Irving as well as the world-famous Empire State Building in New York City.
Mike's proudest achievement is his family. Mike and his wife Denise live in New York City and the Dallas area. Their four boys, Bryan, Trevor, Matthew and Micah have "sprung the nest" and are living all over the country either going to college or working. However, beloved dogs Thumper and Buster are still home and require constant care and attention.
(C)mikeonline.com
Log In to see more information about Mike Gallagher
Log in or register now!
Series
Books:
Surrounded by Idiots, June 2005
Hardcover