Bill Watterson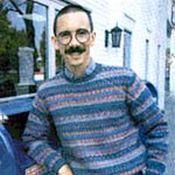 "I've loved comic strips as long as I can remember. As a kid, I knew I wanted to be either a cartoonist or an astronaut. The latter was never much of a possibility, as I don't even like riding in elevators. I kept my options open until seventh grade, but when I stopped understanding math and science, my choice was made."
—Bill Watterson, creator of Calvin and Hobbes
Bill Watterson is the creator of Calvin and Hobbes, one of the most popular and well-regarded cartoon strips of the 20th century. Watterson drew the strip from its debut run on November 18, 1985, to December 31, 1995. In 1986, Watterson became the youngest person to win the prestigious Reuben Award for "Outstanding Cartoonist of the Year" from the National Cartoonists Society. He won the award again in 1988, and was also nominated for the honor in 1992.
Series
Books:
The Complete Calvin and Hobbes, October 2005
Hardcover