Carson Kressley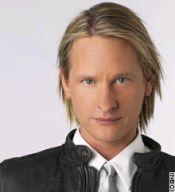 Fashion maven, breakout television star, accomplished equestrian and author Carson Kressley is out to make-over the world, one man at a time. Kressley is one of the stars of the hit original series "Queer Eye For The Straight Guy" for the Bravo Network. He is also a best selling author on the New York Times List for the "Queer Eye For The Straight Guy" companion book. His sharp wit and undeniable sense of style have made him one of the standouts of the show. Having recently been won a 2004 Emmy Award for "Outstanding Reality Program," the cultural impact of the show has proven to be been tremendous, helping to bring gay culture to mainstream American audiences.
In addition to doing his part in helping to bridge the gap between peoples of different genders and sexual orientations, Kressley is an avid philanthropist, championing a wide array of charities and organizations. A strong supporter of many gay rights causes, Kressley uses his celebrity to advance many different concerns such as the Human Rights Campaign Federal Club, for which he has hosted numerous charity events. He was also one of the hosts for the 2004 AIDS Walk in New York City and was a major donor in establishing the first college scholarship program for gay youth in his hometown of Allentown, Pennsylvania. Carson has also contributed his time to GLAAD (The Gay and Lesbian Association Against Defamation), Heritage of Pride, Inc., The Trevor Project and GLSEN (Gay, Lesbian, Straight Education Network.) Also an advocate of medical interests and mental health causes, Kressley is a member of the Lay Advisory Board for the New York University Medical Center's Mental Illness Prevention Center and recently participated in Katie Couric's annual fundraiser for The Jay Monahan Center for Gastrointestinal Health in conjunction with The National Colorectal Cancer Research Alliance. He is currently working on donating his time to consult on a NYC shopping spree to the Dream Foundation, which enhances the quality of life for individuals and families battling terminal illnesses by granting dreams and wishes.
Kressley is also a nationally ranked equestrian and a former member of the U.S. World Cup Equestrian Team. His philanthropy extends into his love for the sport, as he is a major donor of the United States Saddle Seat Equitation World Cup, for which he also serves on the Board of Directors. Kressley is also working on a program where a holiday ornament designed by him will benefit The American Saddlebred Horse Foundation of Lexington, Kentucky. He is also a supporter of The Humane Society of New York.
A Phi Beta Kappa and Magna Cum Laude graduate of Gettysburg College, Kressley currently resides in New York City and filming the second season of "Queer Eye For The Straight Guy" and readying the release of his first book as a solo author, Off The Cuff, a men's style guide to be released by Dutton Publishers in September 2004. Previously, Carson co- wrote the book, Queer Eye For The Straight Guy in 2003.
Series
Books:
Does This Book Make My Butt Look Big?, October 2016
Hardcover
You're Different and That's Super, October 2005
Hardcover